From Social Capital to Social Investment: Struggles over value, price and policy
March 31, 2021 @ 6:00 am

-

7:00 am

UTC+0

Free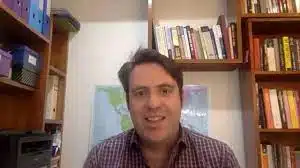 Associate Professor Ben Spies-Butcher
Head of the Sociology Department at Macquarie University.
Certificate of attendance available
This week Associate Professor Ben Spies-Butcher will give a presentation \"From Social Capital to Social Investment: Struggles over value, price and policy\" followed by a discussion.
Social capital theory aims to capture aspects of the 'social' that contribute economic value. It thus stands at the intersection of disciplines, fields and forms of life. This presentation places social capital theory in the context of attempts within mainstream economics to understand and capture the 'social' and more recent efforts by social scientists to gain recognition for the 'social' within mainstream policy debates. Drawing on earlier work on the development of the concept of social capital, it connects these debates to more recent attempts to conceptualise and operationalise models of 'social investment'. In both cases, I argue, tensions remain between efforts to make the 'social' fit market imperatives and efforts to recognise the value of social relations.
About the presenter:
Ben Spies-Butcher teaches Economy and Society and is Head of the Sociology Department at Macquarie University. Ben completed his PhD in Economics at the University of Sydney while working in the non-government sector on issues of human rights. His research focuses on the political economy of social policy and the welfare state, particularly how economic and political change shape social policy financing. His current research explores how financial logics common in the private sector are reshaping social policy through changes in public sector budgeting, and the potential for these changes to open new opportunities for egalitarian social provision.
In addition to his academic publications, Ben is a regular contributor to The Conversation and is a Social Policy Whisperer for Power to Persuade. Ben is a Research Associate at the Retirement Policy and Research Centre at the University of Auckland, a member of the Policy Advisory Group for COTA NSW and was the 2017 Glenda Powell National Travelling Fellow for the Australian Association of Gerontology.
About Our Webinar Series
This event is part of our regular webinar sessions for social capital researchers including PhD/master students. These sessions include invited presentations from prominent scholars as well as presentations by PhD students and experts in professional practice.
For social capital researchers, these sessions are an opportunity to hear about the latest social capital research and insights from scholars working on the concept. They can be a great way to connect with people, to get advice, discuss ideas or issues, get suggestions for literature to read, or you can just listen.
Are you researching social capital and want to present your research? Click here for more information and to submit a proposal.
Generally, presentations can be 20 to 30 mins. The content of your presentation will depend on your research stage.