Reconnected: by Andrew Leigh & Nick Terrell
October 15, 2020 @ 3:00 pm

-

4:00 pm

AEDT

Free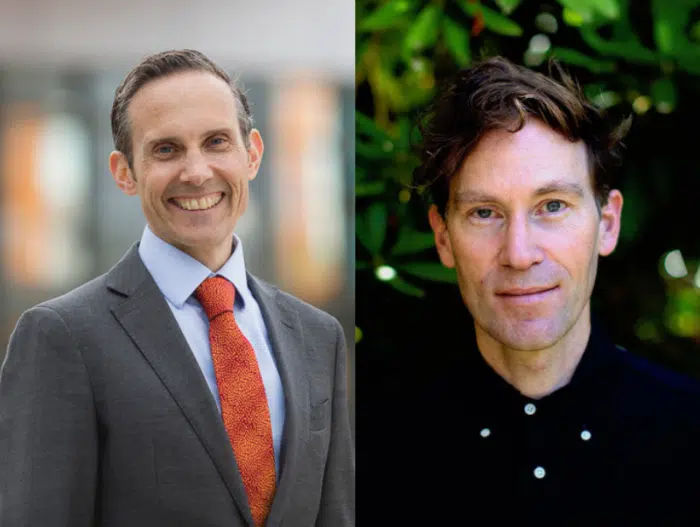 Andrew Leigh and Nick Terrell
Certificate of attendance available
Why Australians need social connection and community, and how to create it
Friends are good for your health. The strength of your social relationships is a remarkably good predictor of how long you will live. Strong social connections also make communities more resilient – as Australians have discovered during the COVID-19 pandemic. But overall we have fewer close friends and local connections than in the past, and more of us say we have no-one to turn to in tough times. How can we turn this around?
In Reconnected, Andrew Leigh and Nick Terrell show what works when it comes to community-building, and introduce us to some remarkable and inspirational people. Organisations such as parkrun and Greening Australia are mobilising thousands of people to stay fit and improve their local neighbourhoods. Technology is providing new ways to raise funds and to volunteer. And from the popular 'No Lights No Lycra' dance nights to the atheist 'Sunday Assembly' movement, Australians are finding new ways to connect in the twenty-first century.
Reconnected is an essential guide for anyone interested in strengthening social ties.
About the presenter:
ANDREW LEIGH is the federal member for Fenner. Before being elected in 2010, he was a professor of economics at the Australian National University. His books include Battlers and Billionaires, The Luck of Politics and Randomistas.
NICK TERRELL is an adviser to Andrew Leigh MP. He has worked closely with Australia's charity and nonprofit sector to protect the voice of community organisations and promote the value of their contribution to Australian communities.
About Our Webinar Series
This event is part of our regular webinar sessions for social capital researchers including PhD/master students. These sessions include invited presentations from prominent scholars as well as presentations by PhD students and experts in professional practice.
For social capital researchers, these sessions are an opportunity to hear about the latest social capital research and insights from scholars working on the concept. They can be a great way to connect with people, to get advice, discuss ideas or issues, get suggestions for literature to read, or you can just listen.
Are you researching social capital and want to present your research? Click here for more information and to submit a proposal.
Generally, presentations can be 20 to 30 mins. The content of your presentation will depend on your research stage.