Volunteers Networking Event
November 7, 2022 @ 8:00 pm

-

9:00 pm

GMT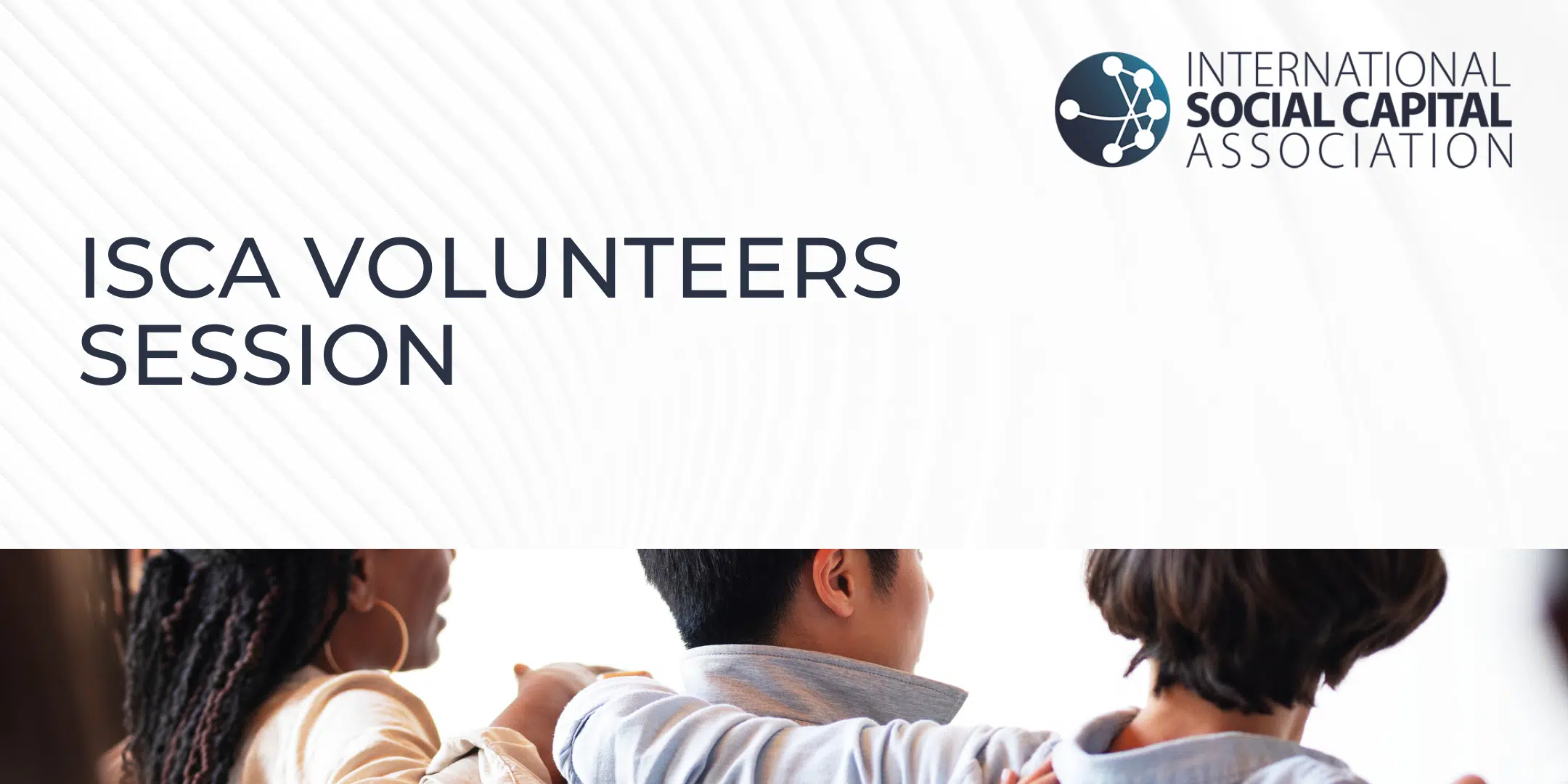 Volunteers are at the heart of ISCA. This event is a dedicated online event for volunteers to meet other volunteers – to network, solve problems, talk about challenges and celebrate successes. If you are an ISCA volunteer, join us for this relaxed and informal 60 minute session.
How to sign up:
All current eligible volunteers will receive a personal invite by email from the HR team. If you think you should have received one, but haven't had your invite the week before the event, email us at: events@intsocialcapital.org
How the session will run:
This is one of our more informal sessions. You will have an opportunity to introduce yourself and where you're from at the start of the session. Then we will split into pairs for 5-10 minutes to allow you to get to know others on a one to one basis. We will repeat this a few times and then move into larger groups of 3 or 4 people, where you can discuss your 'wins' and any challenges you've had as a volunteer with ISCA, which can be fed back to improve the volunteer experience for others. Volunteers will have an opportunity to step up and facilitate this group going forwards.
Who is this for?
This event is dedicated to ISCA volunteers who have completed an induction. If you haven't yet completed your induction yet, don't worry, we hold these events every few months and you will be able to join the next one. If you're not yet a volunteer and would like to join us, find out if we're currently recruiting and sign up to find out more: Volunteer Application Form
Access requirements
We seek to make our events accessible, and this is no exception. If there is something that will help you to engage more effectively in this session, please email us on: events@intsocialcapital.org. Sometimes, it's the small things that make a big difference, so do email us if you have an access request.
We recognise that not all participants are able to attend all sessions for the full duration. You are free to join us and leave at any time during the session.
We request that you have your name on Zoom (this can be just a first name) to make it easier for us to facilitate the session and address participants correctly. It helps to have cameras on, but we recognise that sometimes this isn't possible, for a variety of reasons.