WEBINAR: Batia Ben-Hador: Levels of social capital in organizations
May 13, 2022 @ 9:00 am

-

10:30 am

IDT

Free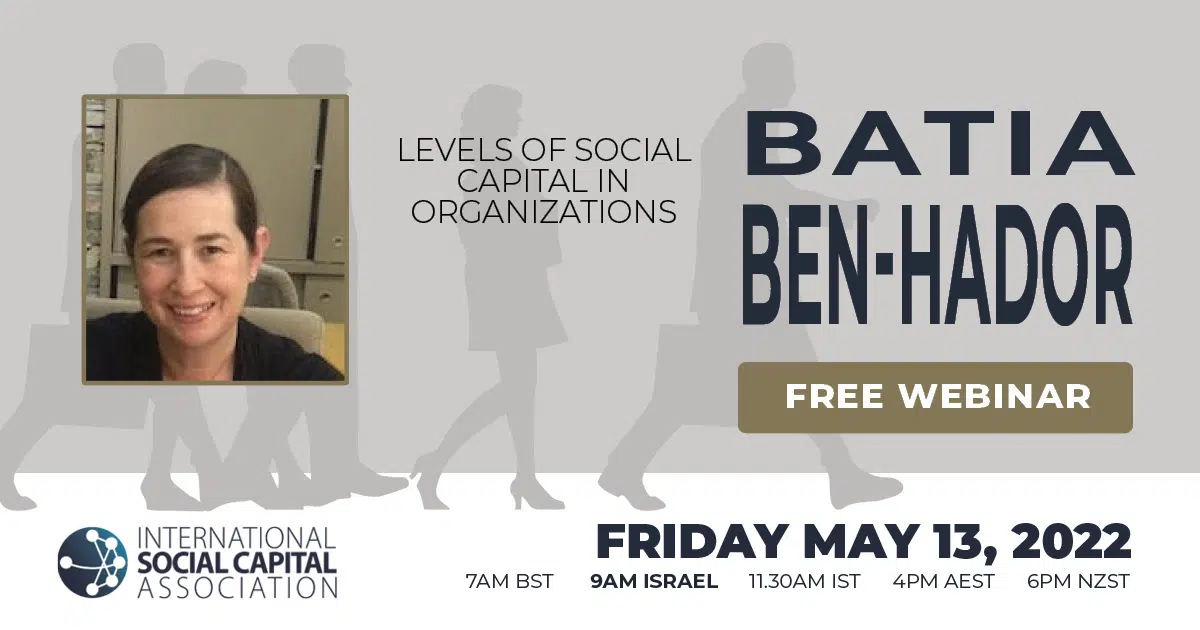 Senior Lecturer
Ariel University, Israel
Certificate of attendance available
Given the broad conceptualization of social capital (SC), several SC categorizations currently exist. In organizations, it is customary to divide the SC into three levels: Personal, Intra-organizational and Extra-organizational SC. I research the three levels together and separately; and investigate the connections to other personal variables and organizational outcomes, quantitively and qualitatively. In the presentation I talk about some of my studies and implications.
Personal SC is the SC of individuals who work in organizations. This level is based on personal connections outside of the organization as well as on connections inside the organization. Investigating this level is relatively simple. I will present a new scale for measuring personal SC and connection to variables such as gossip, cynicism, and managerial position.
Intra-Organizational SC is based on relationships between and within groups in the organization, up to the level of the entire organization. These relationships are based on trust, shared goals, information sharing and reciprocity. Many researchers believe that this level is the most important for the organization\'s success. I will present a scale for measuring intra-organizational SC and connection to outcomes such as employee performance.
Extra-organizational SC consists of the SC of the entire organization and is expressed in the interfacing of employees such as CEOs and senior managers with factors outside of the organization such as investors, suppliers, clients, and competitors. I will present findings about the connection between this level to other levels of SC and organizational variables such as intrapreneurial behavior.
About the presenter:
I'm a senior lecturer in Ariel University, Israel. My Ph.D. dissertation was about social capital in organizations and ever since, social capital in organizations is my main research topic. I have also published some papers in the OB and HRM fields, and I try to integrate the social capital research with these fields. I live in a small town (close to the airport 😉) in Israel. I am married to Ramy, the CEO of Swissport Israel, I have two grown-up kids, and a lovable dog.
About Our Webinar Series
This event is part of our regular webinar sessions for social capital researchers including PhD/master students. These sessions include invited presentations from prominent scholars as well as presentations by PhD students and experts in professional practice.
For social capital researchers, these sessions are an opportunity to hear about the latest social capital research and insights from scholars working on the concept. They can be a great way to connect with people, to get advice, discuss ideas or issues, get suggestions for literature to read, or you can just listen.
Are you researching social capital and want to present your research? Click here for more information and to submit a proposal.
Generally, presentations can be 20 to 30 mins. The content of your presentation will depend on your research stage.