WEBINAR: Dr Esther Carmen: A socio-cultural perspective for working with social relationships in community sustainability initiatives in practice: A focus on relationship qualities
November 29 @ 10:00 am

-

11:30 pm

GMT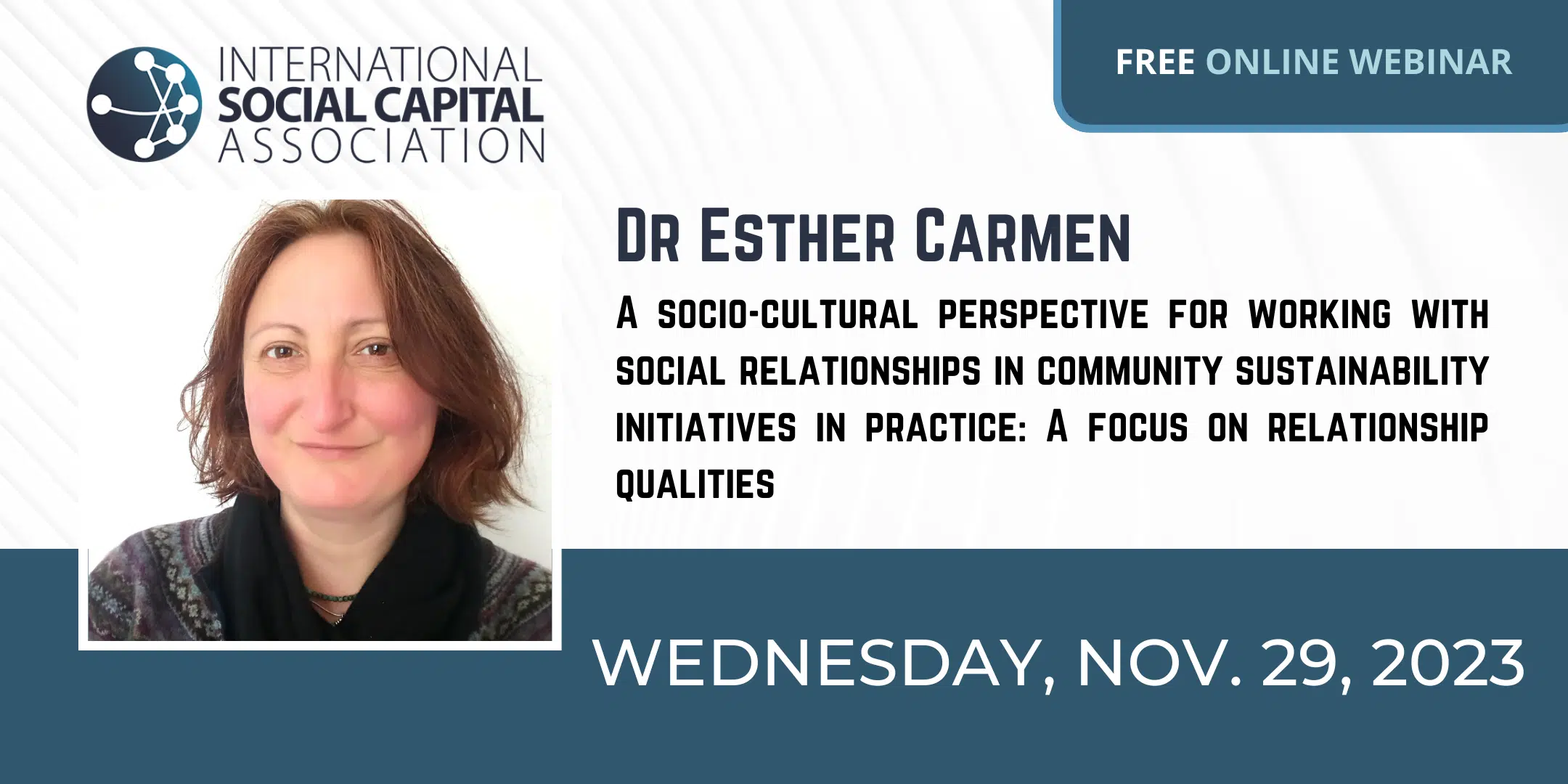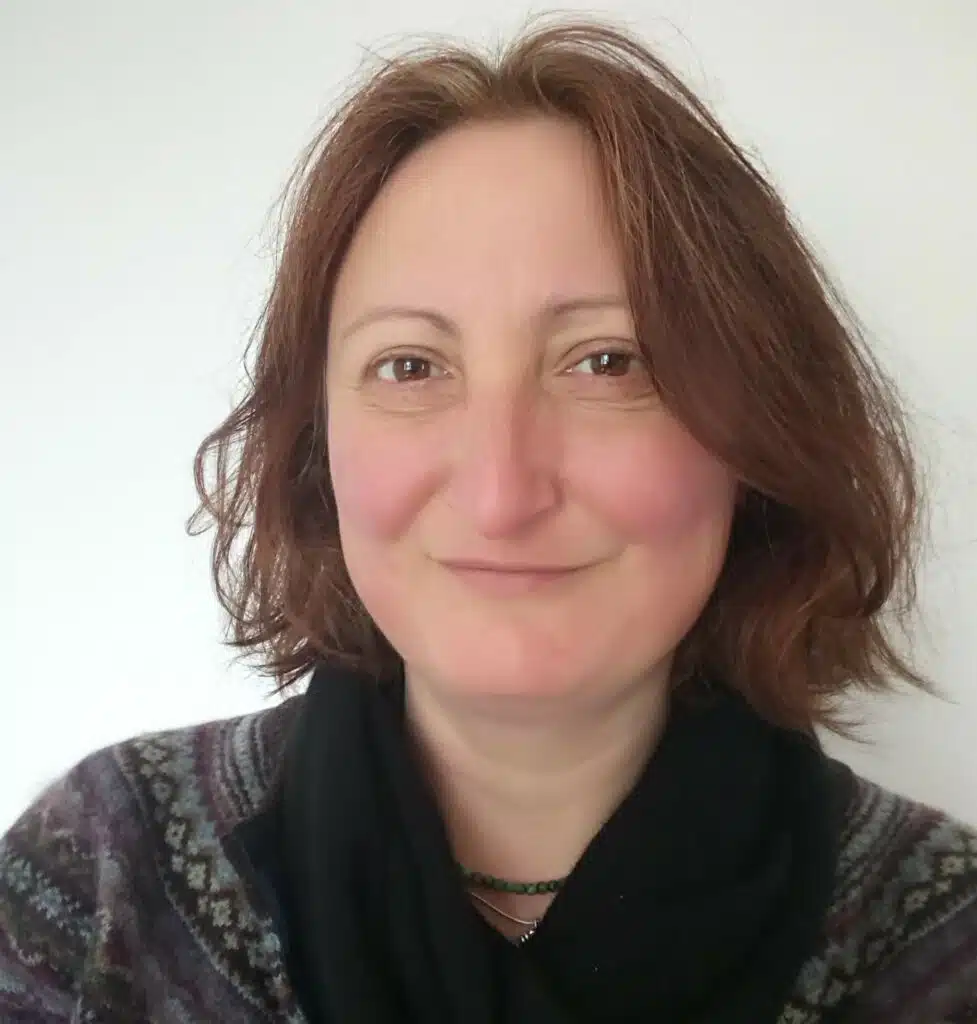 Environmental Governance Researcher
The James Hutton Institute
Social capital is widely recognised as a critical resource within community sustainability initiatives and for enhancing community resilience more generally. This talk draws on three studies on social capital relating to community resilience and, more specially community-based sustainability initiatives.
First, a review of 187 community resilience and social capital studies is briefly presented that identifies limited attention (conceptually and empirically) on the socio-cultural dimensions (i.e. social norms, values, identities) of social capital in community resilience literature. Second, a study that explored the social dynamics involved in developing a community sustainability initiative (a community fridge in Scotland) is briefly presented. The findings show a connection between the socio-cultural dimensions of social relationships in a shaping (initially) a decrease and a subsequent increase in the quality of relationships as this initiative was implemented. Whilst important such socio-cultural dimensions however may be challenging to actively work with in practice. Instead, a focus on relationship qualities could provide new insights on the role of social relationship and how to better work through relationships within initiatives in practice.
To illustrate this a third study is briefly presented that explored different qualities of social relationships and their role across 22 diverse community sustainability initiatives in Scotland. Findings show that direct contributions and indirect benefits from social relationships were more diverse for some types of relationship qualities than others – and such diversity enhances flexibility. While a strong focus on expected benefits of social relationships and external barriers hindering the role of relationships was common, some initiatives adopted a more agentic approach that involved explicitly navigating their social landscape by selecting opportunities to build relationships based on quality. Prioritising quality has the advantage of avoiding expending excessive energy on social relationships that are likely to yield little whilst also channelling resources to maximise the role of social relationships within initiatives. The flexibility the application of such relationship-based strategies can (co)create is important for engaging with local sustainability challenges of increasing complexity.
About the presenter:
Esther is an interdisciplinary qualitative environmental social scientist interested in how different social actors (i.e. scientific, policy, community and business) can and do shape socio-environmental change processes. Her work focuses on advancing our understanding on how to work with and better involve these different actors in ways that can help guide the development of more sustainable collective futures.
Her PhD (undertaken at the University of York, UK and completed in 2021) addressed the question 'How do social relationships, amongst other diverse factors, shape community change initiatives in the context of climate change?'. This led to 3 peer reviewed scientific papers, with an additional paper currently under review.
Her current research relates to environmental governance more broadly, within Scotland and across Europe with a focus on the involvement of the private sector (different economic sectors and businesses) for mainstreaming nature-based approaches at scale that to deliver land-based and freshwater ecosystem restoration whilst also addressing societal challenges.
About Our Webinar Series
This event is part of our regular webinar sessions for social capital researchers including PhD/master students. These sessions include invited presentations from prominent scholars as well as presentations by PhD students and experts in professional practice.
For social capital researchers, these sessions are an opportunity to hear about the latest social capital research and insights from scholars working on the concept. They can be a great way to connect with people, to get advice, discuss ideas or issues, get suggestions for literature to read, or you can just listen.
Are you researching social capital and want to present your research? Click here for more information and to submit a proposal.
Generally, presentations can be 20 to 30 mins. The content of your presentation will depend on your research stage.
Related Events